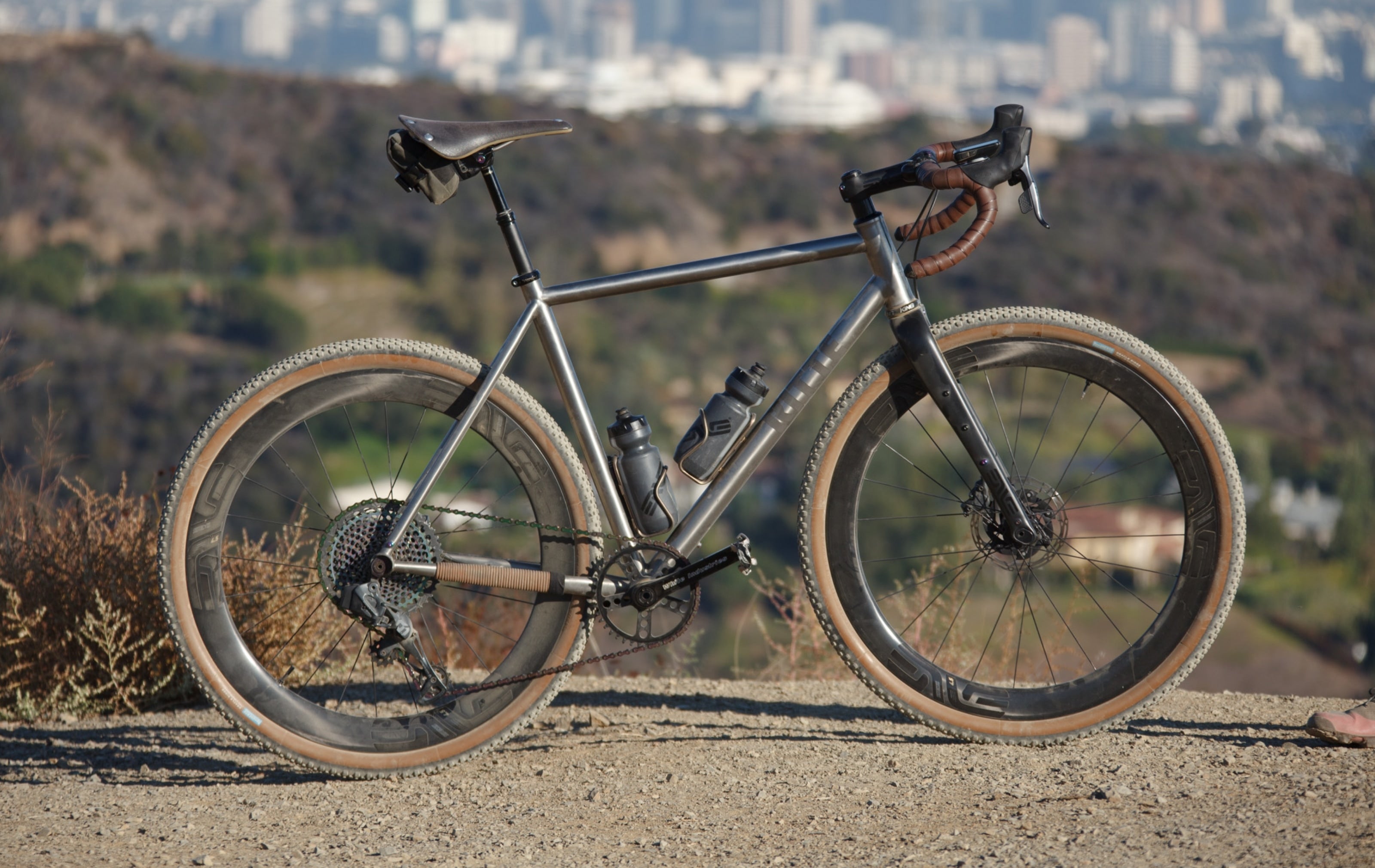 The SaTir
A go anywhere bike, built by hand just for you.
REFINEMENT FOR THE WILD CHILD
The satyr was a mythical forest creature known to the Romans as a woodland spirit (and a bit of a party animal). The embodiment of fun and rowdiness, the satyr was a man built atop the legs of a goat.
Since it's launch the steel-framed Ritte Satyr has been a hit with its beautifully balanced handling and adjustable fork rake, it's well-protected full internal cables and hoses, and big tire clearances.
The titanium-framed SaTir retains all these features and brings the refinement and elegance of titanium to the off-road party.
Build Your SaTir
"US-MADE BIKES ARE SOMETHING WE'VE STRIVED TO KEEP IN THE LINEUP, THEY ARE SOMETHING WE ARE PROUD TO BE ABLE TO OFFER. THIS BIKE REPRESENTS EVERYTHING WE'VE LEARNED ABOUT TUBE DESIGN AND GEOMETRY IN A  PACKAGE THAT WILL GIVE INCREDIBLE VERSATILITY FOR ON/OFF-ROAD RIDING."

BEAUTIFULLY DETAILED
Featuring size-specific wall thicknesses, tube diameters, and butting profiles specially selected and blended by the legendary frame builder, Tom Kellogg, the oversized downtube coupled with a custom-swaged and tapered top tube provide unparalleled front end stability and precise turn in.  The T47 threaded bottom bracket conceals all the cables internally, a Ritte trademark.
Custom paint and build options available
Versatile - 1x or 2x, mechanical or electronic, 11sp, 12sp or 13sp
Up to 700c x 50mm or 650b x 2.2" tire clearance
Internal cable routing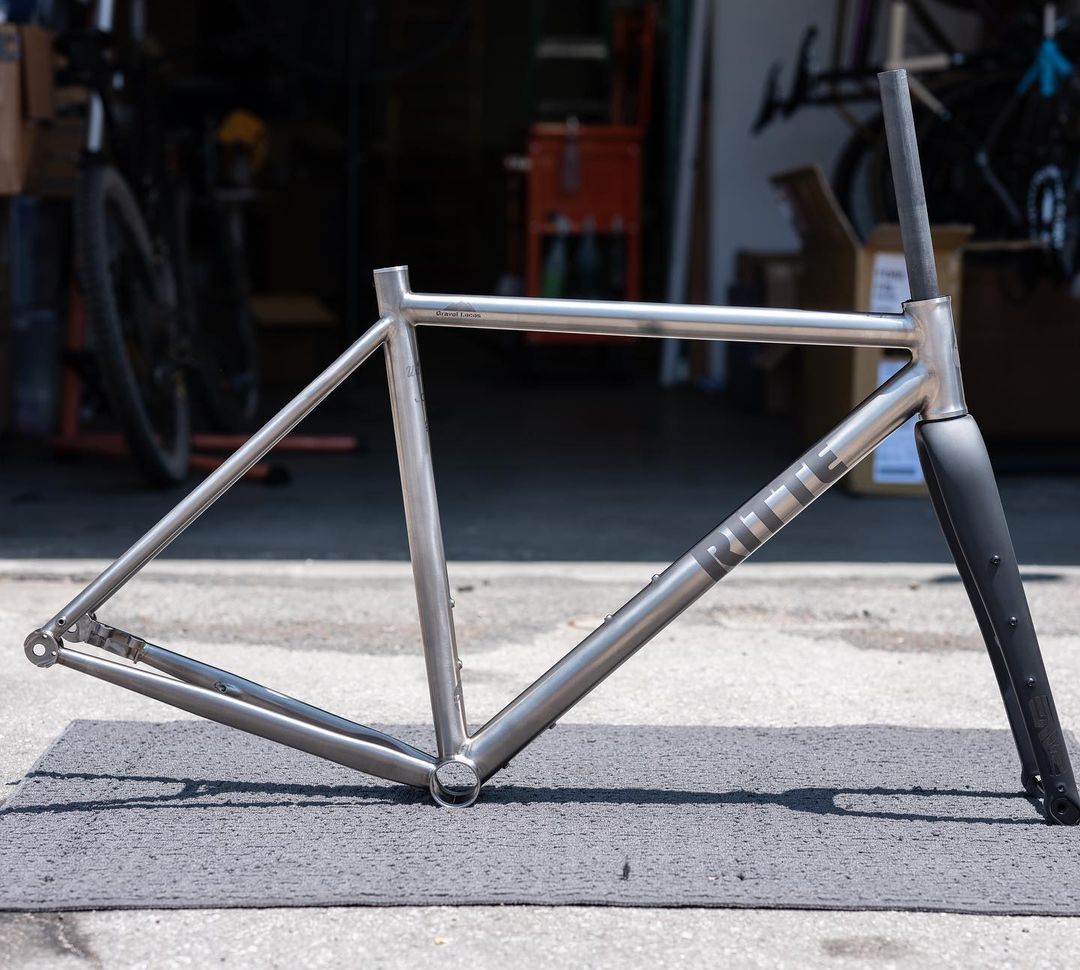 EXPLORE BETTER
The SaTir is for go anywhere, do anything – it's a rig for rides big or small, rough or paved. It will take you camping, single track shredding, dirt road rambling, riding with your group, and everything in between. A bike for pure fun - the Satyr truly dials it up to 11.
Fender ready, 3 bottle cage mounts and cargo options for longer adventures
Fitted with the Enve Adventure Fork
Also available in steel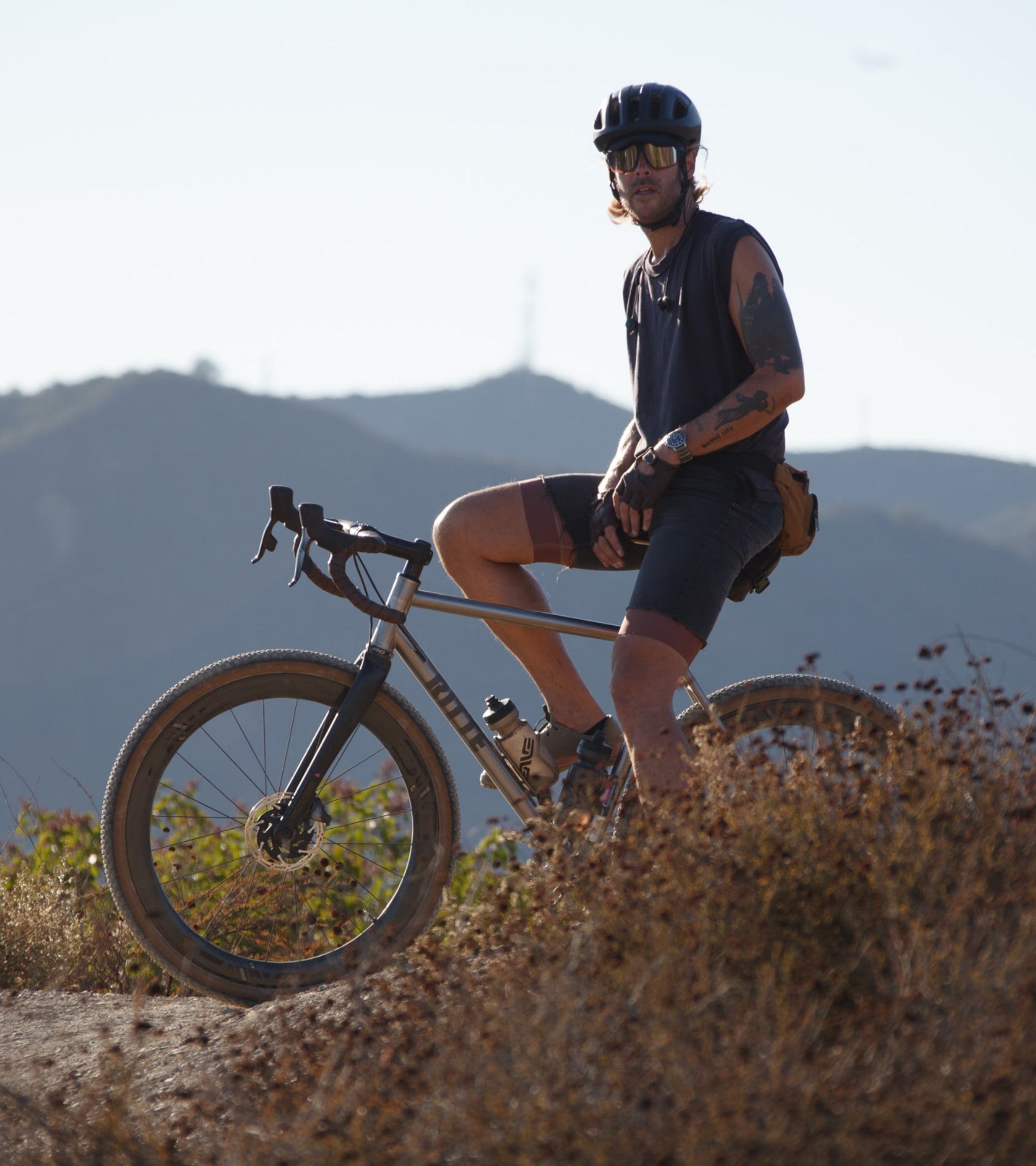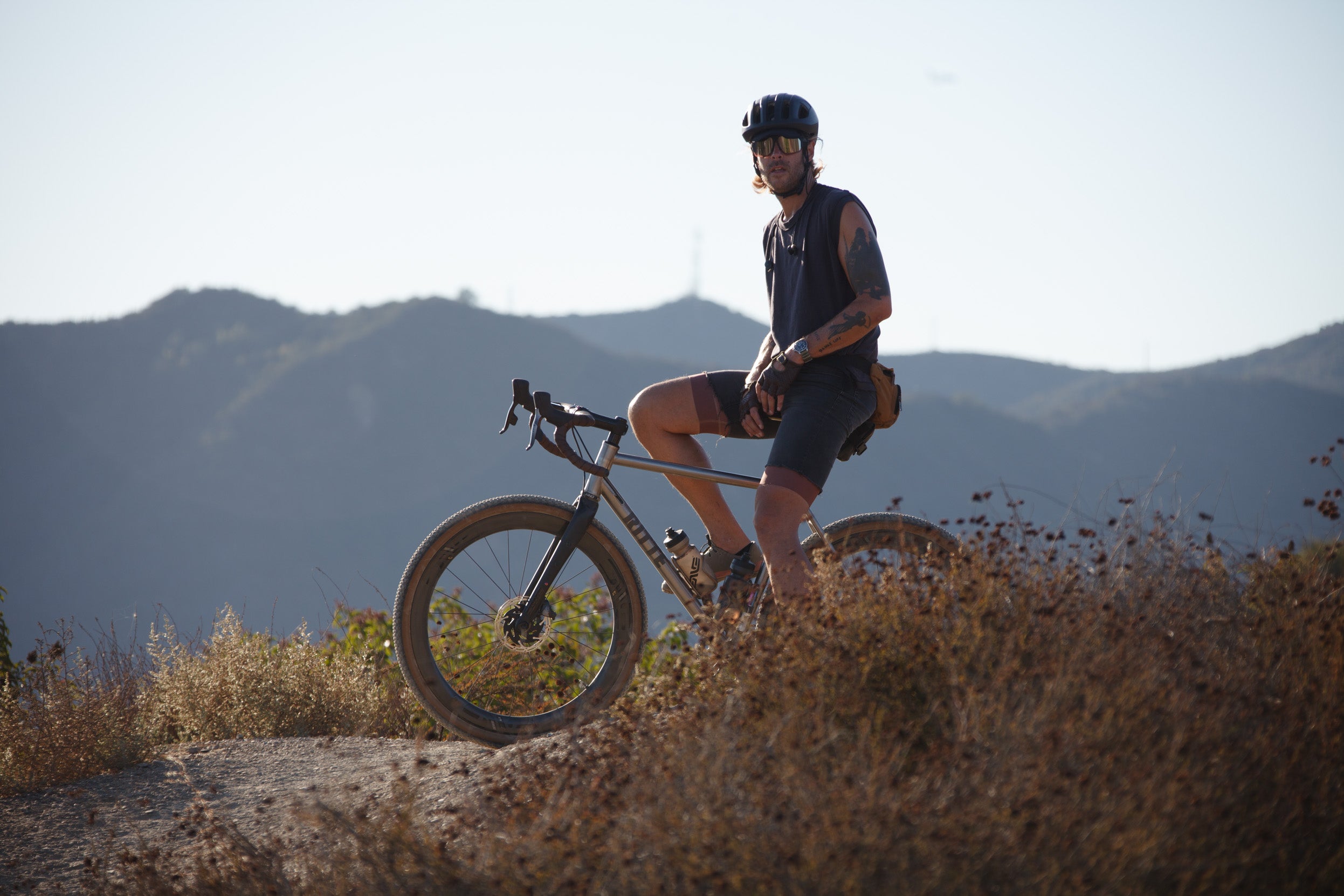 EXPLORE BETTER
The SaTir is for go anywhere, do anything – it's a rig for rides big or small, rough or paved. It will take you camping, single track shredding, dirt road rambling, riding with your group, and everything in between
A bike for pure fun - the SaTir truly dials it up to 11.
• Fender ready, 3 bottle cage mounts and cargo options for longer adventures
• Fitted with the Enve Adventure Fork
• Also available in steel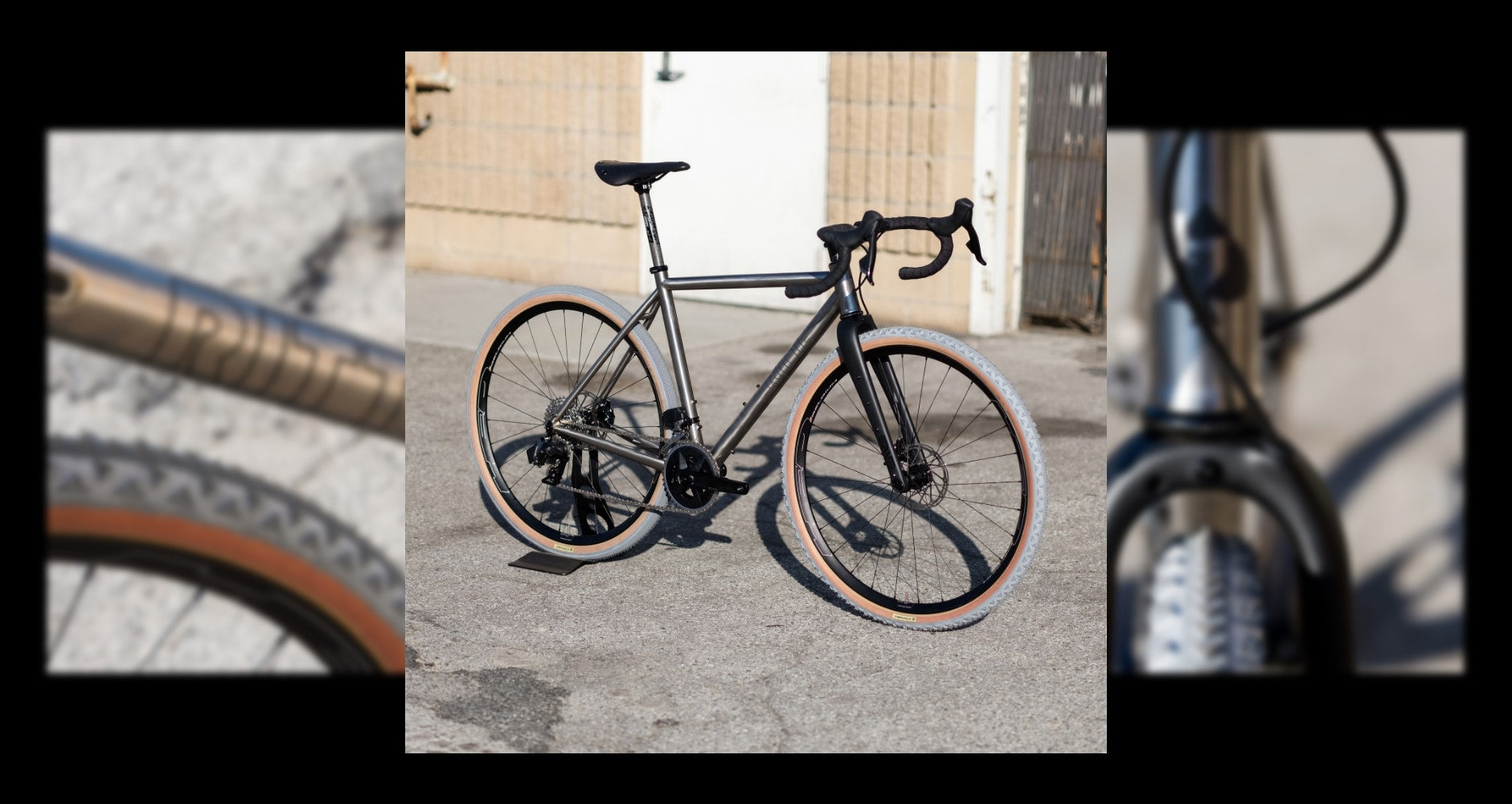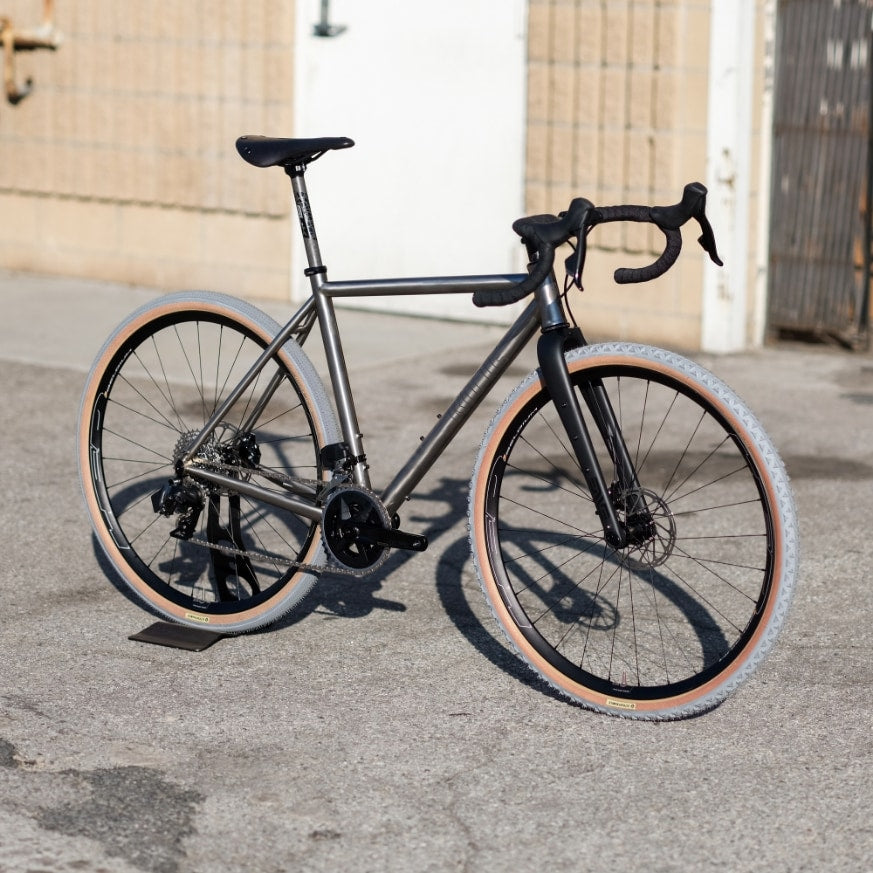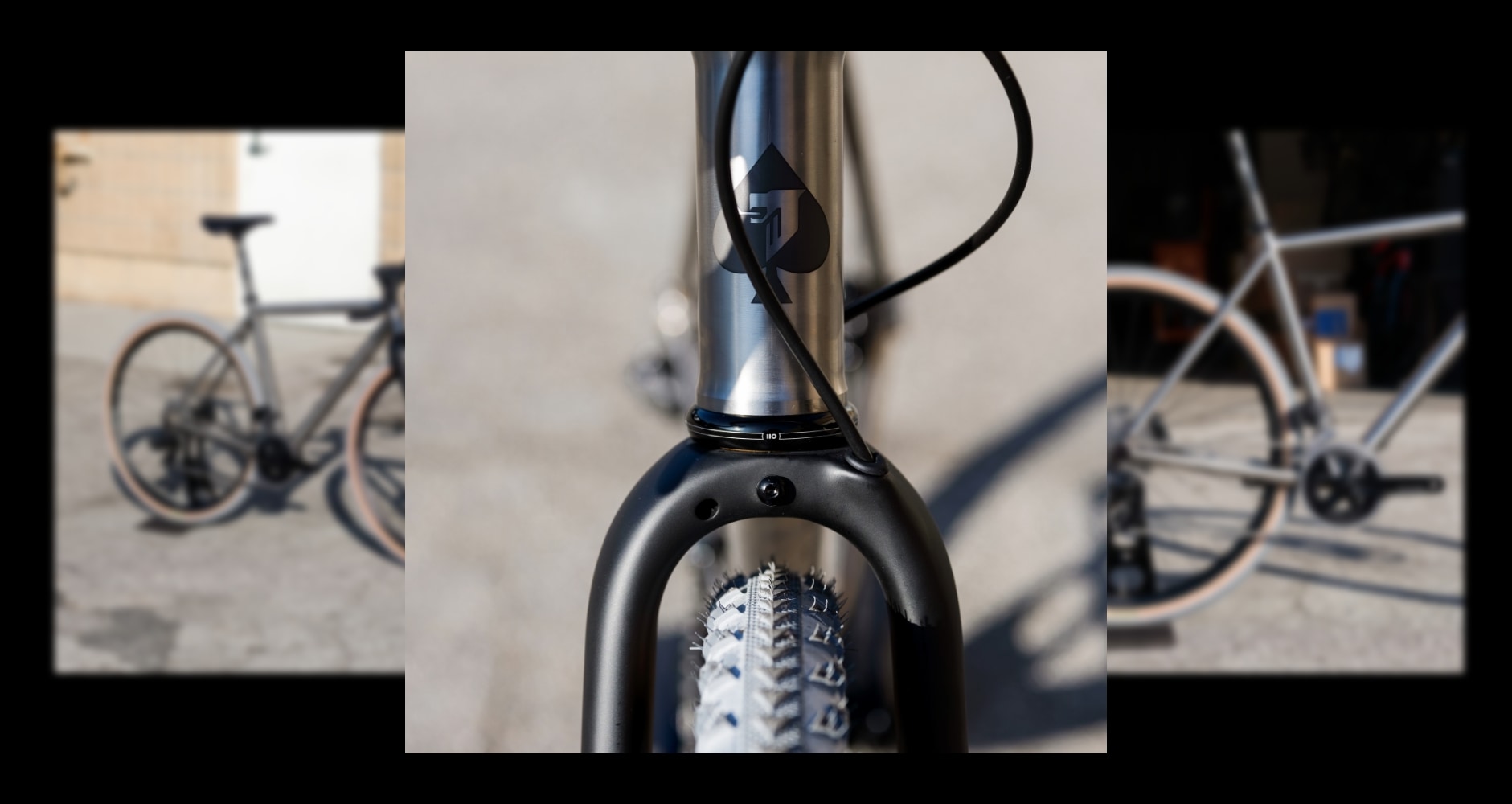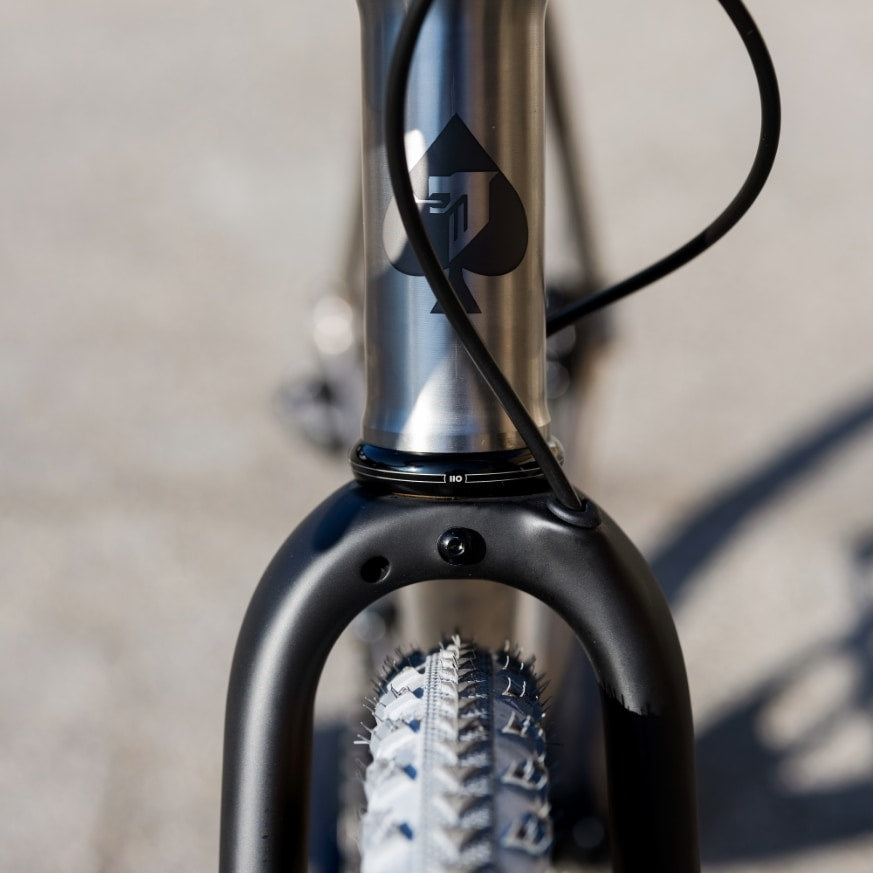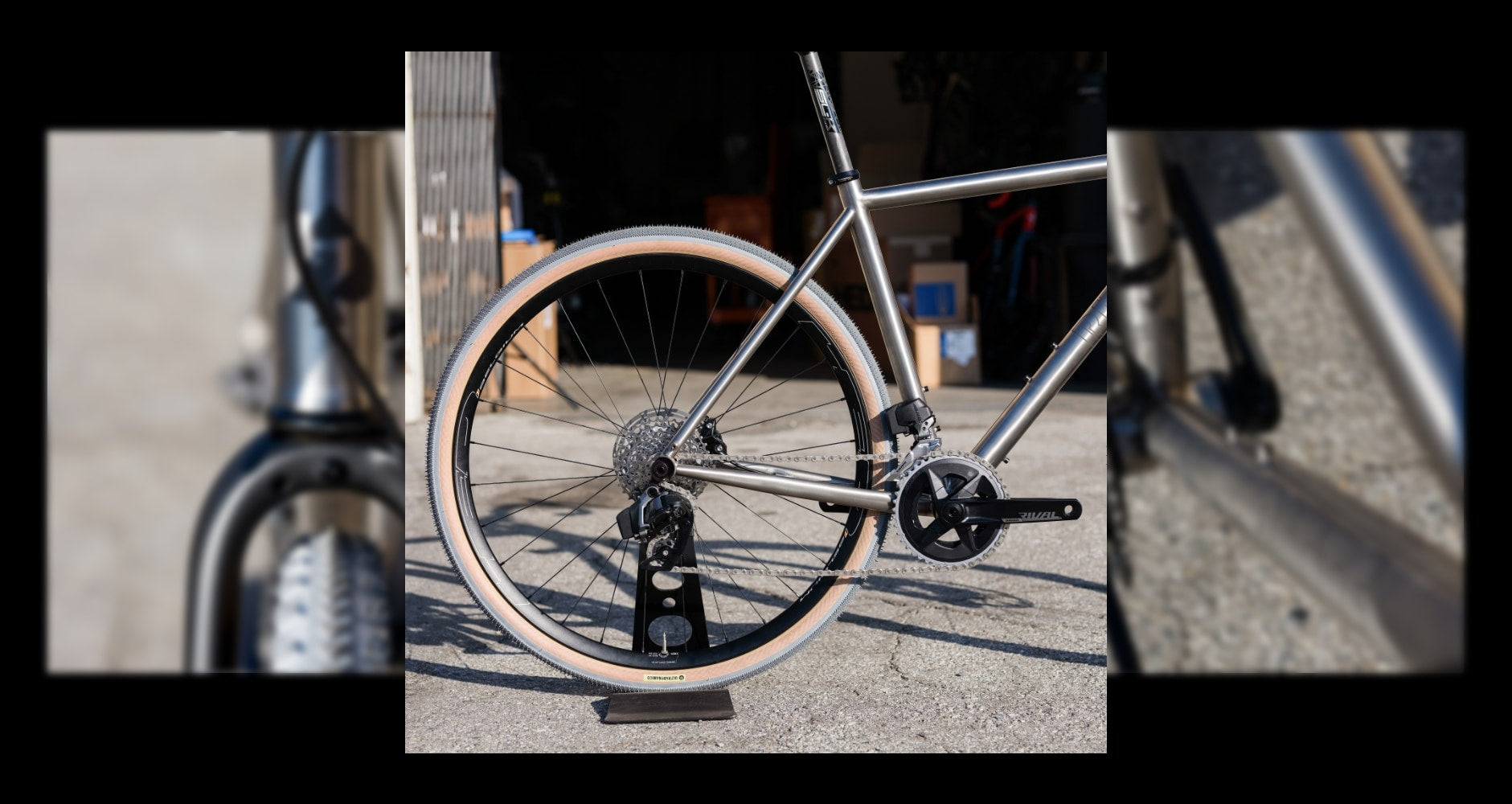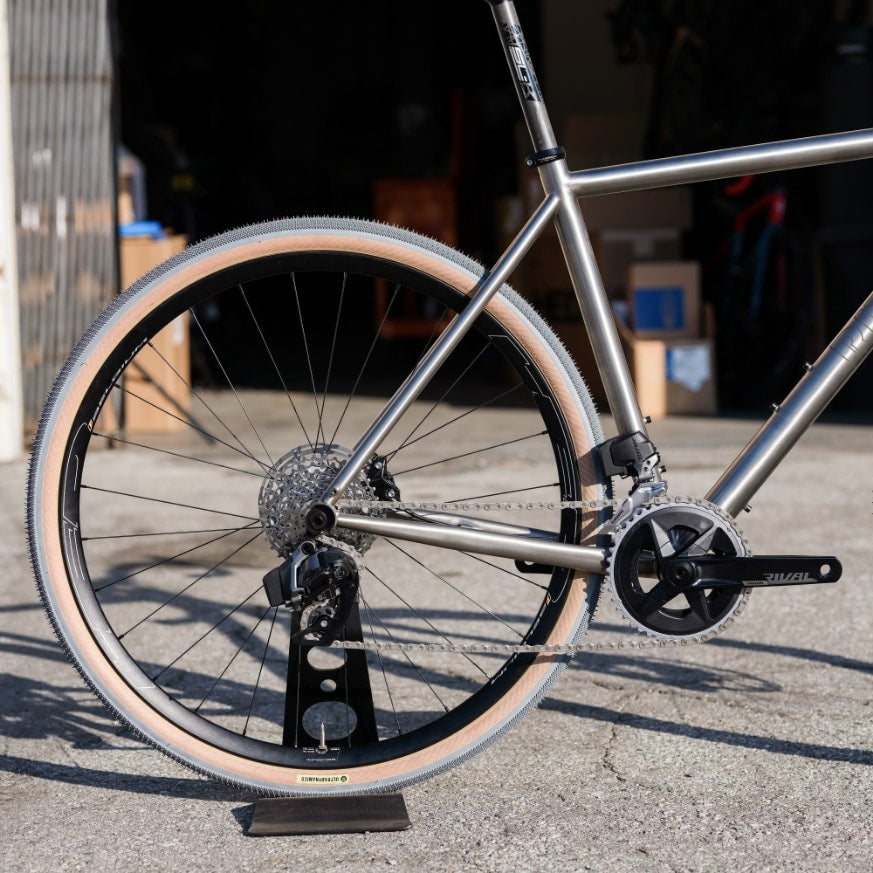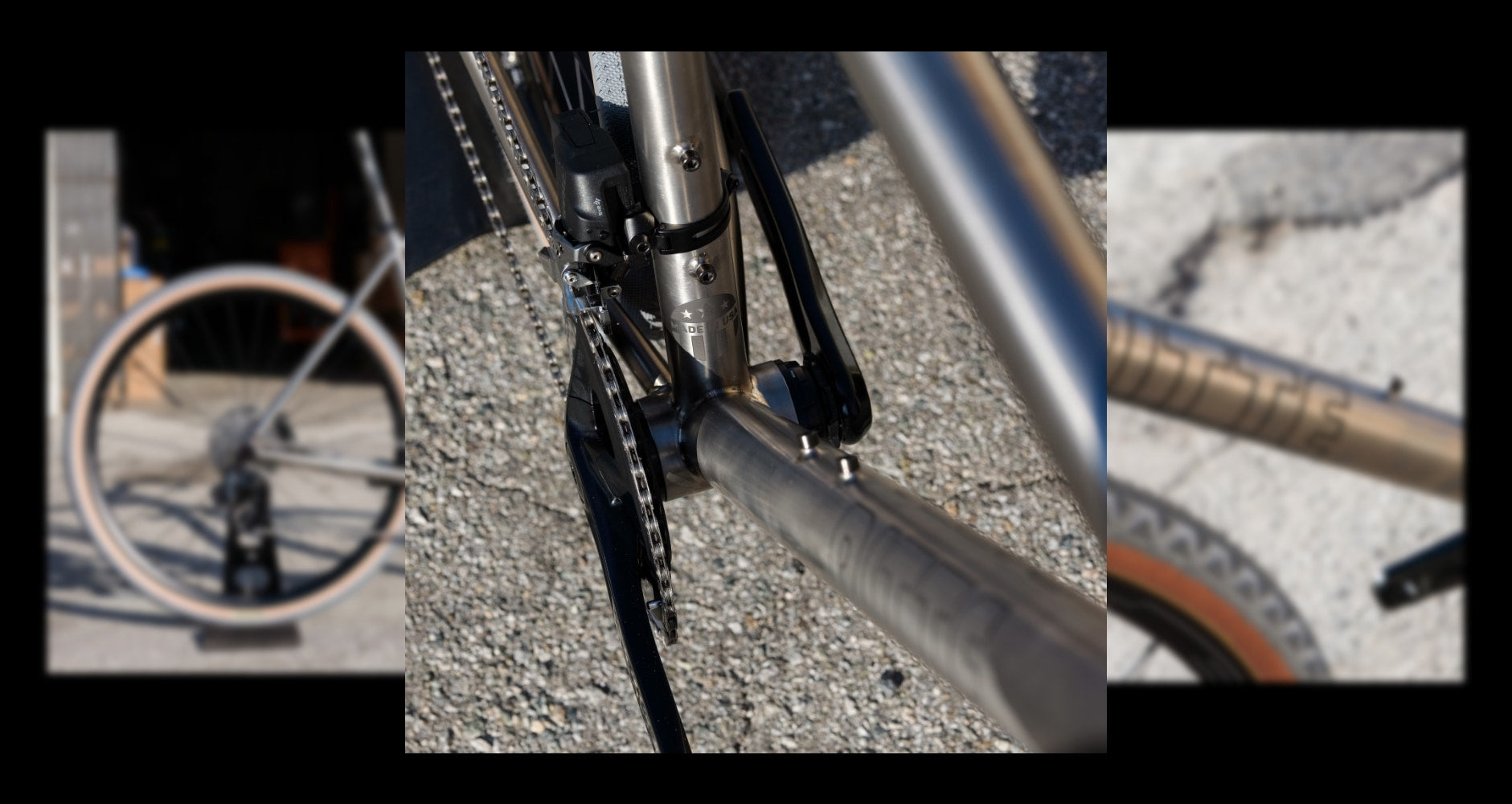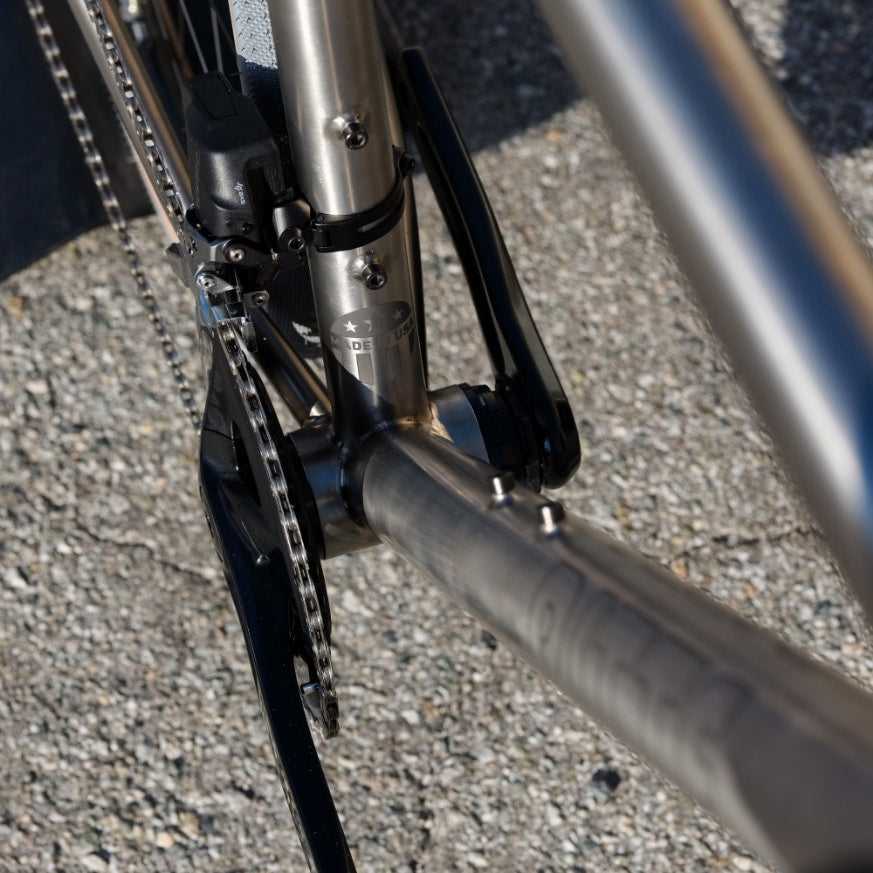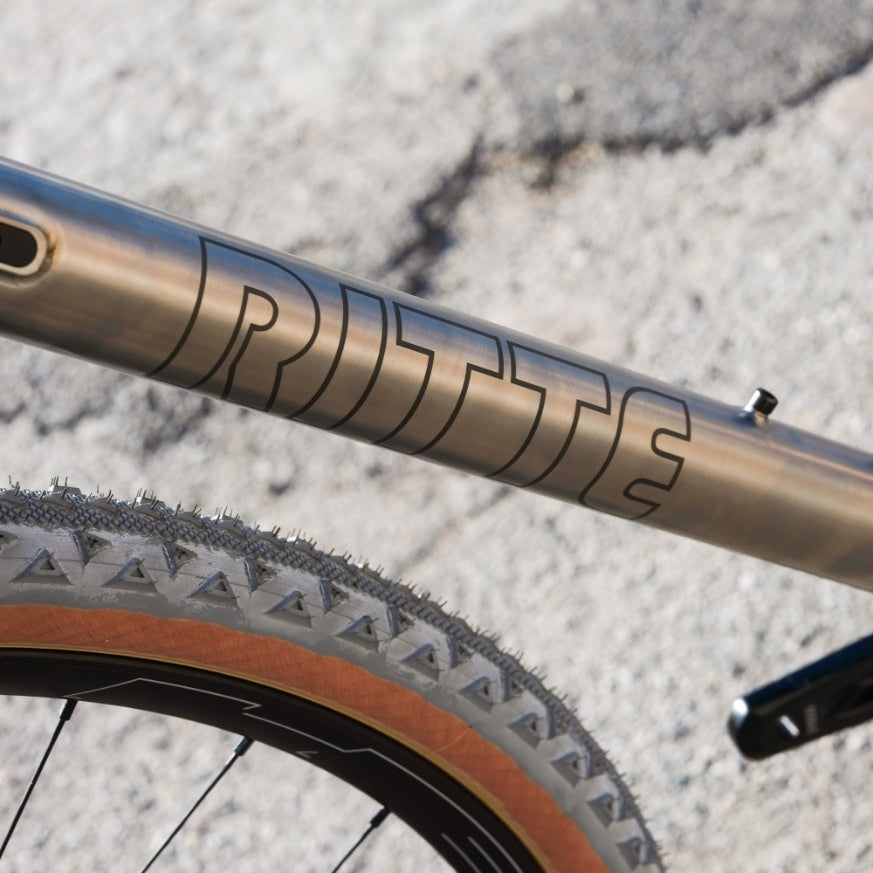 The SaTir
Framesets starting at $4,450
Complete bikes starting at $6,825
Have a question about your build? We love hearing from you and guarantee we'll call you back within 24 hours.
Frames are custom built by hand and take approximately 6-8 weeks.
The SaTir
Sale price

$ 4,450.00
Regular price
(/)
Proven handling geometry, an exceptional tubing package, and customized fit are the key components to The SaTir.

Built from a hand selected mix of tubing, all of our SaTir frames begin with an ultra-oversized titanium tubes. The base tube package is anything but basic - generally this is a tubeset that would already be an 'upgrade' over standard round, straight wall tubes with many brands. But, we can go further—we offer upgrades to double butted tubing at all 3 main frame tubes (TT, DT, and ST) as well as options for thinner or thicker gauge tubing. We would be glad to discuss your specific needs to build just the right ride for you.

We utilize a T47 threaded bottom bracket and IS headtubes for ease of maintenance—this bike is built to go the distance.

All of these frames come equipped with an Enve Road Disc fork.

Learn more about titanium and our titanium choices.
The frame specifications below are the standard build specifications for the SaTir. Other options are available for custom builds so please contact us if you do not see what you're looking for below.

| | |
| --- | --- |
| FRAME | Ultra-oversized Grade 9 custom titanium tubing, hand built in the US |
| FORK | ENVE Adventure carbon fork |
| GROUPSET | Compatible with all 11sp and newer road disc groups (mechanical and electronic) |
| CRANK / CHAINRINGS | 1x 38t to 46t or 2x WIDE 43/30 up to 46/33 and 48/31 |
| CASSETTE | All standard 11sp and 12sp road or mountain cassettes |
| WHEELSET | 650B or 700C |
| TIRES | 650B: 47mm to 55mm/2.2" or 700C: 32mm to 50mm |
| BRAKE TYPE | Front Flat Mount - 140/160mm / Rear Flat Mount - 140mm/160mm |
| FRONT AXLE | Enve 12mm x 100mm |
| REAR AXLE | Ritte premium 12mm x 142mm |
| HANDLEBAR | Compatible with any 1 1/8" stem / handlebar |
| SEATPOST | 27.2mm round |
| HEADSET | 44m Titanium Headtube |
| BOTTOM BRACKET | T47 - 68mm Threaded |
| CABLE ROUTING | Internal through downtube |
| WARRANTY | Limited lifetime warranty |
| | | | | | | |
| --- | --- | --- | --- | --- | --- | --- |
|   | XS | S | M | L | XL | XXL |
| ST(C-T) | 491 | 512 | 523 | 539 | 551 | 564 |
| Head Tube | 95 | 115 | 130 | 145 | 160 | 175 |
| Head Angle | 71 | 71.5 | 71.5 | 72 | 72 | 72.5 |
| Top Tube | 525 | 540 | 555 | 565 | 578 | 592 |
| Seat Angle | 74 | 73.5 | 73.5 | 73 | 72.5 | 72.5 |
| Stack | 530 | 547 | 559 | 577 | 588 | 604 |
| Reach | 372 | 376 | 388 | 388 | 392 | 401 |
| Wheelbase | 1011 | 1018 | 1035 | 1029 | 1039 | 1049 |
| BB Drop | 80 | 80 | 78 | 78 | 74 | 74 |
| RC | 435 | 435 | 435 | 435 | 435 | 435 |
| Fork Center | 589 | 596 | 612 | 606 | 615 | 624 |
| Fork Rake | 55 | 55 | 55 | 49 | 49 | 49 |

If you have any concern about fit or sizing please email us at support@ritteracing.com and we would be glad to make sure you get the best fitting bike possible.
CAN I GET CUSTOM GEOMETRY ON A TITANIUM FRAME?

Depending on the modification, yes. Reach out to us, and we can work through your goals and fit - we've got a tried and tested geometry theory, and we find that 99% of people fit very well with only minor tweaks to things like headtube length.

CAN I GET A CUSTOM FINISH?


Yes. Our standard finish, brushed with bead-blasted logos, is the lowest maintenance and most resilient option for a titanium frame. But we are glad to offer custom paint, bead blasting and anodizing as an add-on.

WHAT BUILDS ARE AVAILABLE?

The sky is the limit here - we build our titanium bikes to order, so there are no "stock models," and each one is built for a specific rider. We'll work with you on not only the frameset but the groupset and build kit. No detail is too minute - custom-built wheels or a specific chainring.

The builds in the configurator are simply an example - we stock a wide array of components and can order them to suit these bikes.

HOW LONG DOES IT TAKE?

Lead times for our titanium frames start at about six weeks. Complete builds are around eight weeks. Additional finish options, custom geometry, or components requiring additional sourcing can extend these lead times. We generally like to get these bikes done as quickly as possible - we'd rather they be out on the road or trail with you than hanging in our workshop.

WHAT DOES IT WEIGH?

Our titanium frames are around 1600g - depending on the sizing and the tubeset selection we make together. But ultimately, we target a ride quality result rather than a weight with these frames. It's quite easy to build sub-17lb bikes, but we don't want to forego pedaling efficiency, turn-in feel, or longevity to get there.

General Ritte FAQs can be found here
This product is rated 5.0 of 5.0 stars.
It has received 15 reviews.
if i could have only one...
...i'm lucky enough to have a handful of nice bikes but if i had to pick only one (god forbid!) it'd be my ti satyr w/ a set of 650b's for the dirt and 700c's for the road.
ps that's my bike in the top pic :)
The Satyr can do anything
I love this bike. After a string of bad luck on carbon gravel bikes, I saw the Satyr Ti and immediately had to try it out. After 2 seasons on this bike I can say the ride is great and confident, it's perfect for any gravel ride big or small. But what really sold me on the Satyr, was a rocky and rough descent during The Last Best Ride in Montana. I made it down a gnarly steep logging road descent that hit almost 50mph and thought "if this bike can handle that, at those speeds, it can do anything."
A perfect buying and building experience…
Rivaled only by how happy I am with my Satyr 2 Ti. The team at Ritte was friendly, thoughtful and helpful at every turn. They're quick, if not instant, response to any questions or ideas kept me happily and excitedly involved in the process, every step of the way. And it continues well agreed delivery! My Satyr Ti is better than I hoped it would be. I fall more in love with it on every single ride. Thank you Elijah and everyone at Ritte!
Satyr Ti, the "just right" gravel bike.
The short of it: if you are looking at a titanium gravel bike, buy this bike.
The long of it: read along, I'll divide the review in: ordering, evaluating the frameset, riding the bike.
Ordering: A friend knew that I was looking for the "perfect" gravel bike and thought that there was no need to look elsewhere than the Ritte Satyr Ti. I was quite convinced when his Satyr Ti arrived and I could look at the impeccable frame (although it was not completely finished, my friend had designed a beautiful color scheme that was going to be painted by a local master), and a subsequent conversation with Elijah at Ritte sealed the deal. Elijah knows about bikes and materials, listened to my questions/doubts, and provided answers and feedback in buckets. Although the Satyr Ti starts as a semi-custom project to keep costs reasonable, he went out of his way to make sure that the geometry would fit my measurements. I sent him the geometry of my two favourite road bikes from two masters of the trade, each with his own philosophy (one being Tom Kellogg), and Elijah modeled them with Bike-CAD to make sure that the Satyr Ti geometry would match at the three relevant contact points; he determined that required using the headtube from the next size up, which was a no-cost change. Along the process, there were multiple examples of Elijah's expertise, but one telling story speaks to Elijah's aesthetics: I told him that I was planning to use an old beautiful titanium seatpost that had been polished to a shiny finish, and he suggested that I go with the matt sandblasted finish coupled with polished logos (polished logos are shinier than the more standard brushed finish). I was so pleased with Elijah's involvement in the process that I asked to have a logo of his signature on the frame, along that of TK...
The frameset: The frameset has an amazing level of craftsmanship with jewelry-like welds and a silk-like finish; they use some of the best Ti fabricators in the industry and needless to say I asked that there should be a logo of Oscar Camarena's signature on my frame (custom logos and some additional mounts for fenders were a minor upcharge). However, the best feature of the frame is its classic beauty; the proportions of TK's geometry are timeless, perfect and "just right". In fact, many features of the frameset are "just right" for the purpose, such as oversize headtube for external headset (it does not make any sense to have an integrated headset for a frame that needs to take lots of abuse from terrain), T47 bottom bracket (which coupled with the port for cables on the downtube makes for a superclean build with internal cables), beefy but nosuperbeefy chainstays, and the use of the beautiful and functional Enve Adventure fork.
Riding: Titanium done right is perfect for a gravel bike and the Satyr Ti is a great execution. On pavement, with slick tires, the Satyr Ti is a super comfortable bike that leaves you fresh after long rides; on gravel, with knobby tires, it transforms into a very capable bike that floats over bumps in terrain. This is a consequence of TK's magics and how the bike has been designed: the front end is superstable and precise, due to the combination of oversize headtube, Adventure fork and large diameter downtube, whereas the rear end works as a sort of "natural" (for titanium) shock absorber, taking advantage of some flexiness built into the chainstays (and I imagine seatstays). Some flexing of the bottom bracket is felt when standing on the pedals, but not when pedaling hard in the saddle. I have not taken the Satyr to single tracks, but my friends have and when their Satyr is equipped with 2" wide tires, they do MTB-like stunts. My conclusion is that it's probably impossible to build the "perfect" gravel bike, because gravel means different things to different people, but the Satyr Ti may be the closest to perfection with its "just right" design.
The greatest bike I've owned
This bike is pure excellence. From the design and component selection to receiving and shredding gravel, road and some single track, My whole experience with Ritte has been an awesome journey. It's fast but comfortable for long days exploring the vast network of roads Pisgah has to offer. My other bikes have gone unridden since I've received the satyr. It's really that good.