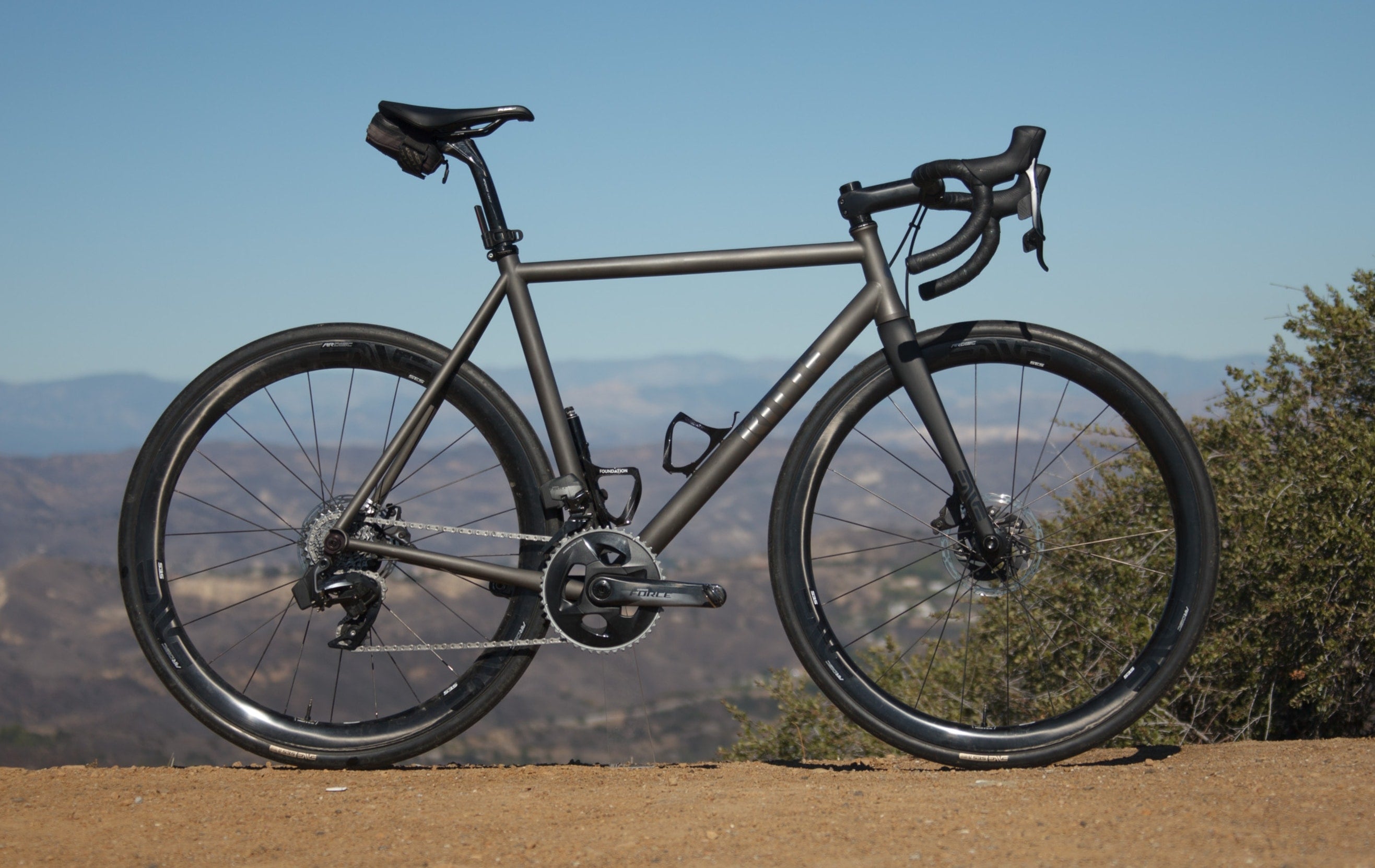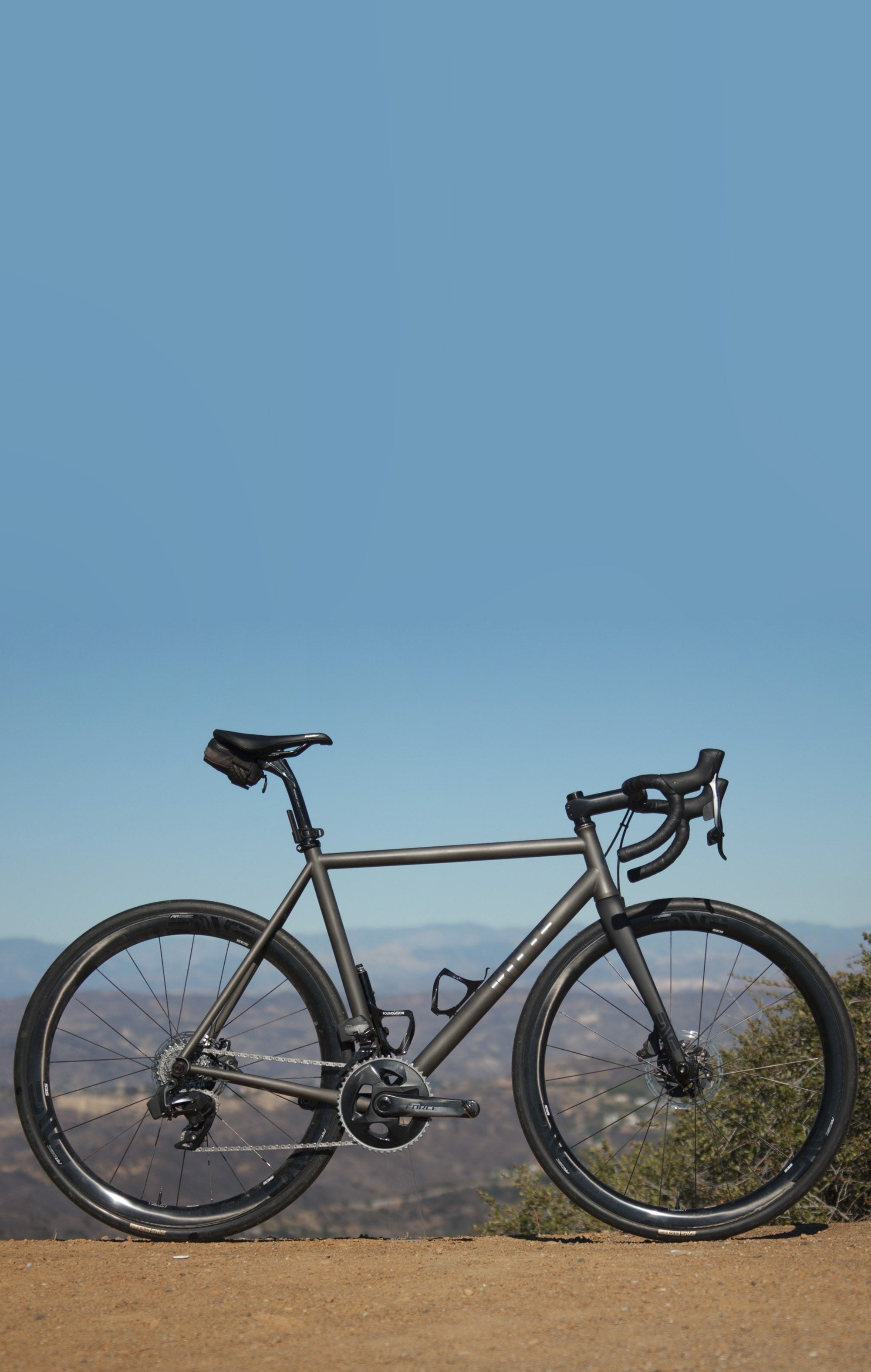 THE SNOB
Precise, cunning, and built as unique as its rider.
Framesets starting at $4,650 USD
OUR MOST REFINED ROAD BIKE
 The Snob, a name reserved for Ritte's most prestigious metal bikes, comes back to life in a US Made Titanium guise. Each frame is hand built special for you.
The Snob
Sale price

$ 4,650.00
Regular price
(/)
Proven handling geometry, an exceptional tubing package, and customized fit are the key components to The Snob.

Built from a hand selected mix of tubing, all of our Snob frames begin with an ultra-oversized downtube and an oversized tapered swaged top tube for a front end that is direct and precise.

The same swaging that gives the top tube its distinct front end feel is utilized in the chainstays to create power transfer that's unmatched without ride harshness.

We utilize a T47 threaded bottom bracket and IS headtubes for ease of maintenance - this bike is built to go the distance.

All of these frames come equipped with an Enve Road Disc fork.

The base tube package is anything but basic - generally this is a tubeset that would already be an 'upgrade' over standard round, straight wall tubes with many brands. But, we can go further - we offer upgrades to double butted tubing at all 3 main frame tubes (TT, DT, and ST) as well as options for thinner or thicker gauge tubing. We would be glad to discuss your specific needs to build just the right ride for you.

Learn more about titanium and our titanium choices.
The frame specifications below are the standard build options for the Snob. Other options are available for custom builds so please contact us if you do not see what you're looking for below.

| | |
| --- | --- |
| FRAME | Ultra-oversized Grade 9 custom titanium tubing, hand built in the US. Butted tubing and custom geometry available |
| FORK | Enve Road Disc Fork w/ Tapered steerer in size specific rakes |
| GROUPSET | Compatible with all 11sp and newer road disc groups (mechanical and electronic) |
| CRANK / CHAINRINGS | Clearance for 46/33 up to 54/40 chainrings with cranks from 165mm to 175mm length |
| CASSETTE | All standard 11sp and 12sp road cassettes |
| WHEELSET | Designed for 700c Disc Brake wheels |
| TIRES | Clearance for up to 32mm Slicks |
| BRAKE TYPE | Front Flat Mount - 140/160mm / Rear Flat Mount - 140mm/160mm |
| FRONT AXLE | Enve 12mm x 100mm included |
| REAR AXLE | Paragon 12mm x 142mm included |
| HANDLEBAR | Compatible with any 1 1/8" stem / handlebar |
| SEATPOST | 27.2mm round |
| HEADSET | IS41 upper / IS47 lower tapered titanium headtube |
| BOTTOM BRACKET | T47 - 68mm Threaded |
| CABLE ROUTING | Internal through downtube |
| WARRANTY | Limited lifetime warranty |
| | | | | | | |
| --- | --- | --- | --- | --- | --- | --- |
|   | XS | S | M | L | XL | XXL |
| ST(C-T) | 499 | 518 | 536 | 548 | 565 | 582 |
| Head Tube | 115 | 135 | 150 | 165 | 180 | 200 |
| Head Angle | 72 | 72.5 | 73 | 73.5 | 73.5 | 73.5 |
| Top Tube | 525 | 539 | 554 | 565 | 577 | 593 |
| Seat Angle | 74 | 73.5 | 73.5 | 73 | 73 | 72.5 |
| Stack | 523 | 541 | 559 | 577 | 588 | 605 |
| Reach | 374 | 378 | 388 | 390 | 398 | 406 |
| Wheelbase | 991 | 991 | 990 | 992 | 1004 | 1023 |
| BB Drop | 76 | 74 | 74 | 72 | 72 | 70 |
| Rear Center | 425 | 420 | 415 | 415 | 415 | 420 |
| Fork Rake | 50 | 50 | 43 | 43 | 43 | 43 |

These sizes are all baseline configurations, as The Snob is a custom built bike it can be customized to suit your fit. Reach out to us, we'd love to discuss and get everything dialed in just for you.

If you have any concern about fit or sizing please email us at support@ritteracing.com and we would be glad to make sure you get the best fitting bike possible.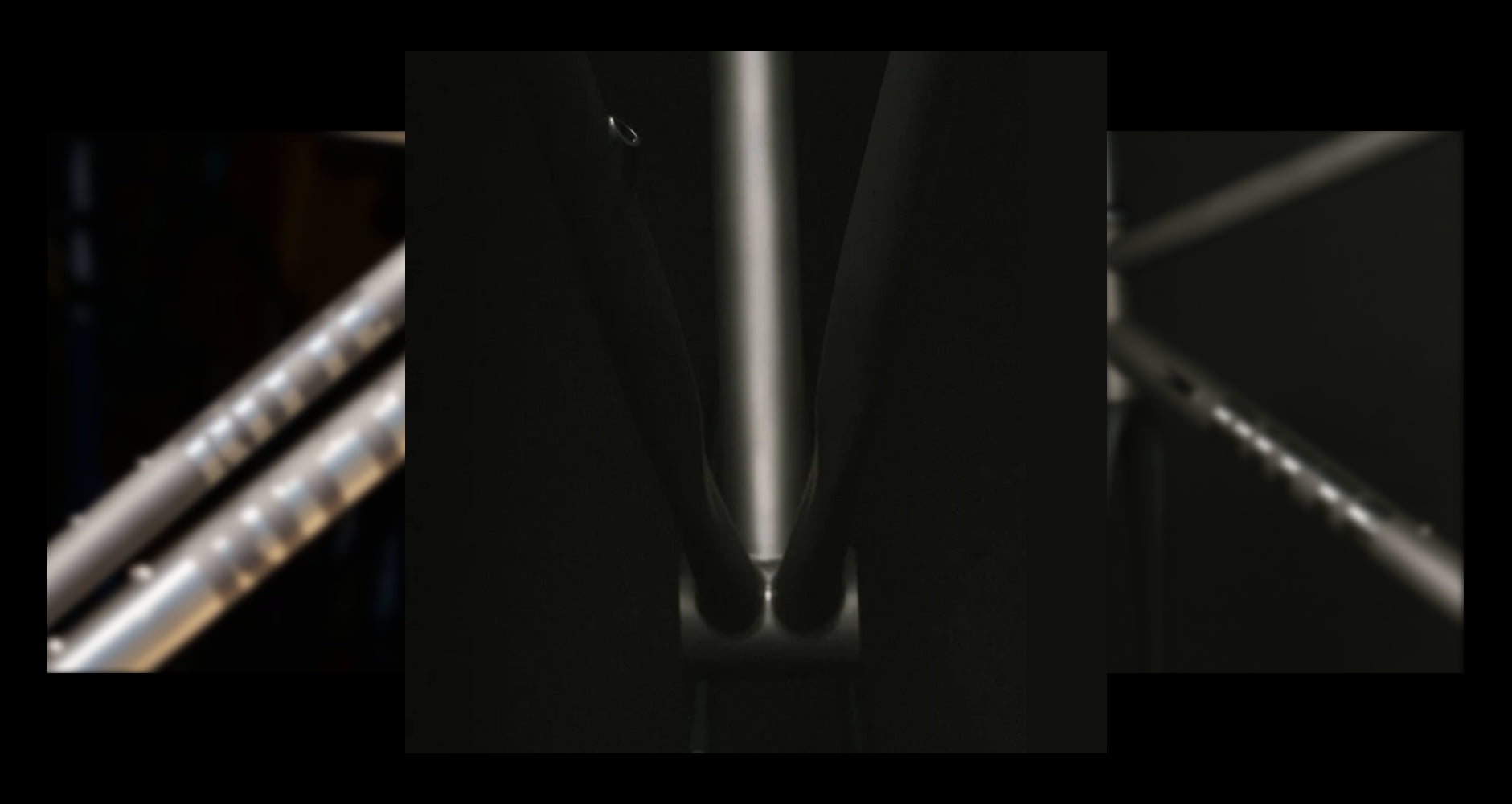 GO ANYWHERE AND GO BIG
Clearance for up to 32mm tires with plenty of side to side clearance. It's the ultimate road bike for wherever the road takes you.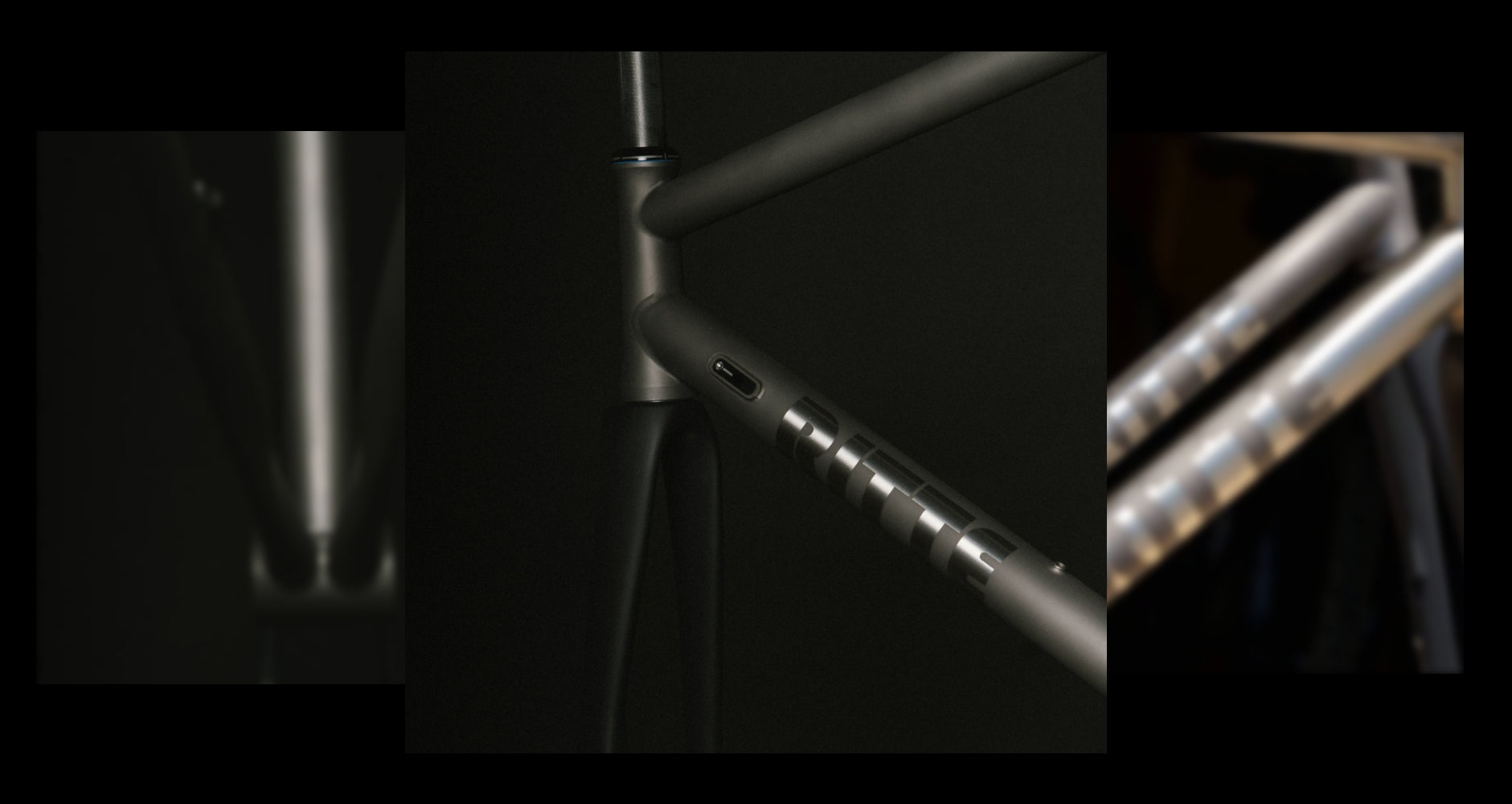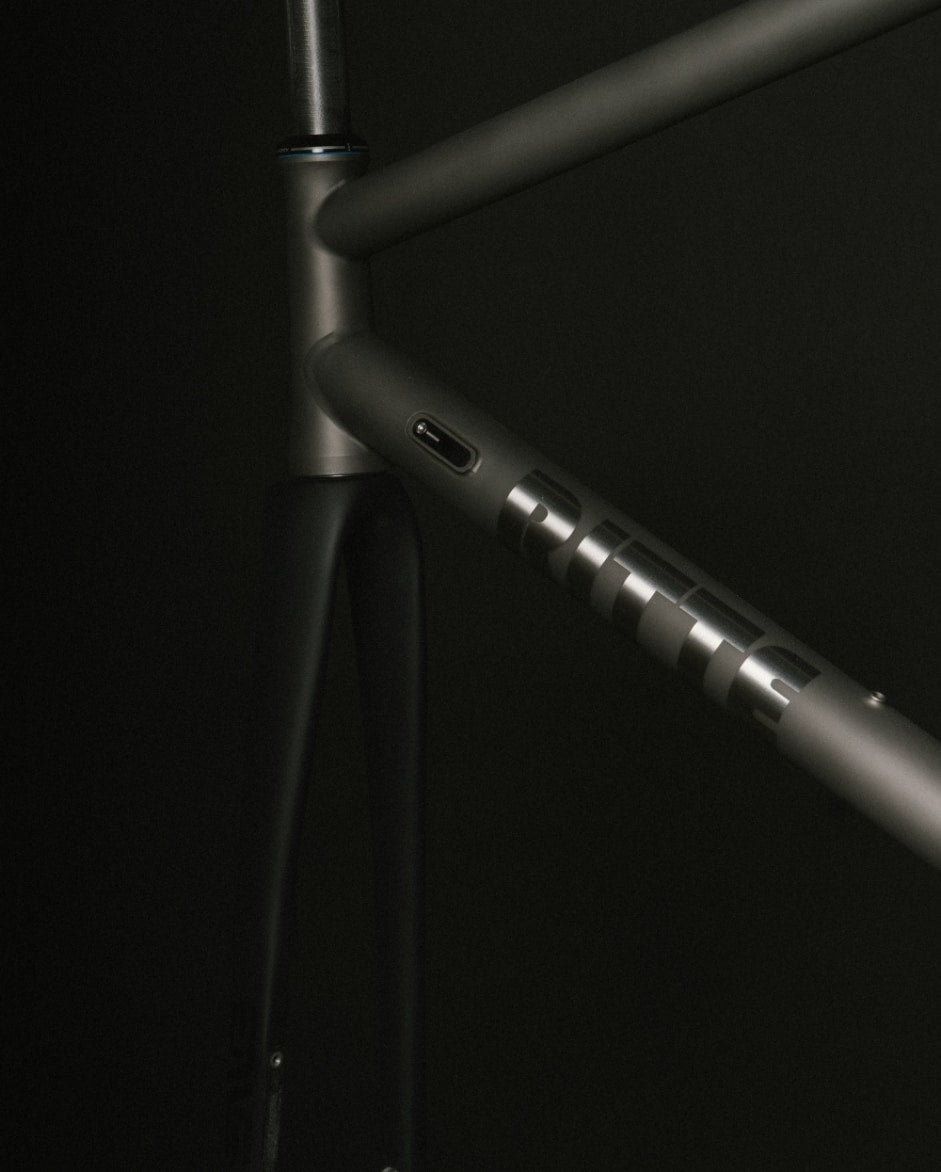 CUSTOM CRAFTMANSHIP
Every tube junction, every bend, and every weld are purposeful in creating the ride you've dreamt of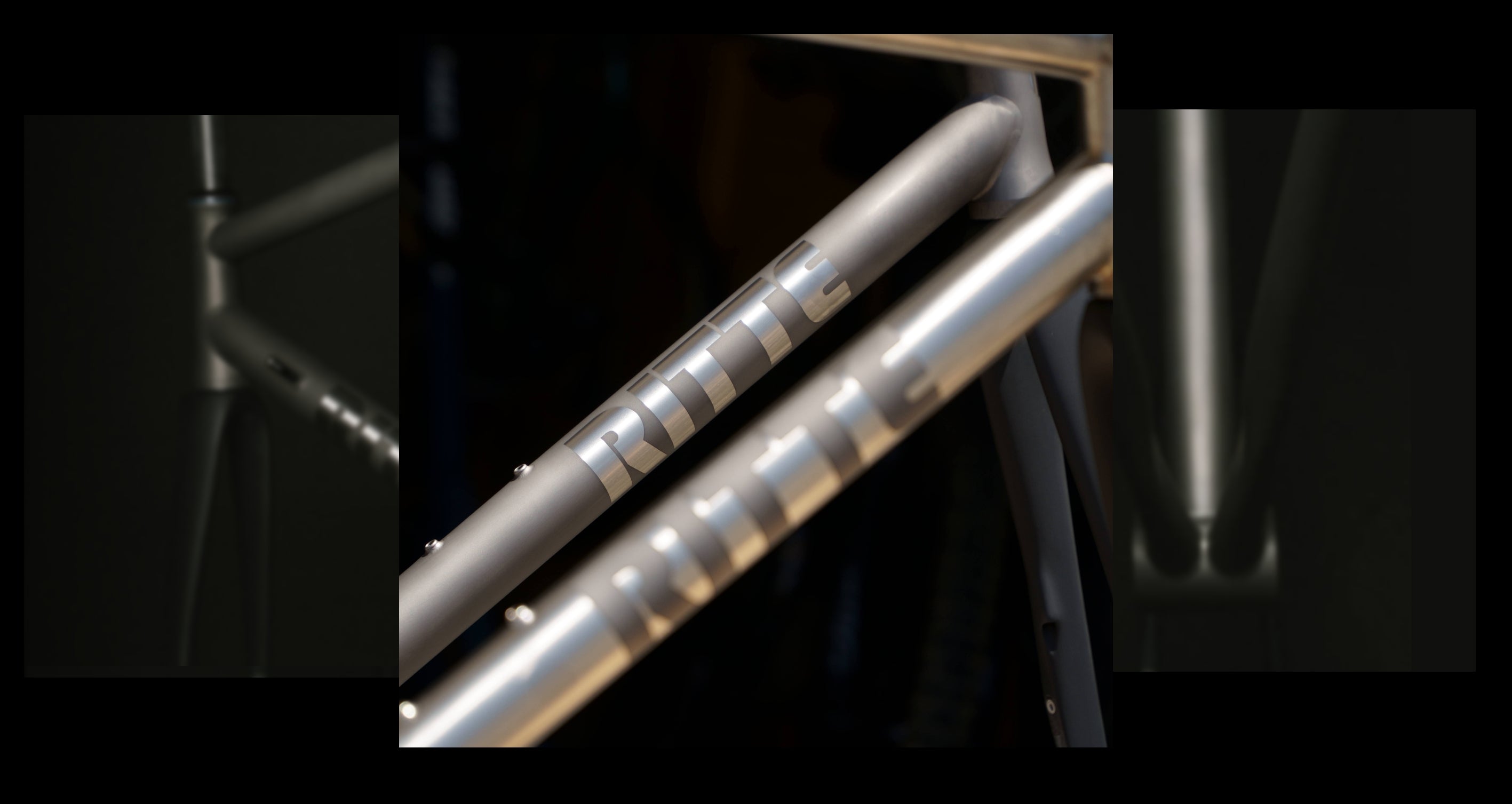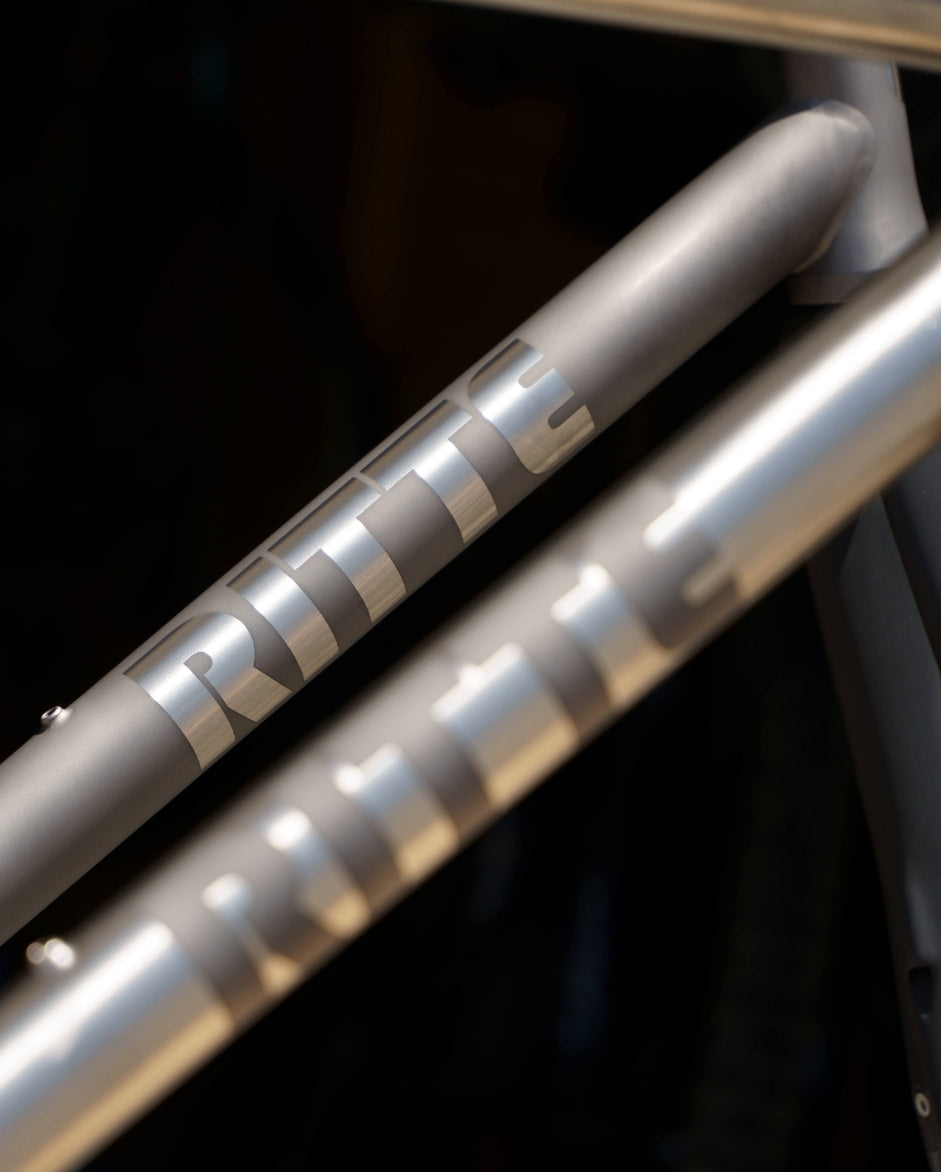 FINISH STRONG
From stealth to standout, The Snob is available with a myriad of custom finishes
INVESTMENT GRADE
Confident, comfortable, and classy - from first look to last ride, The Snob is built to stand the test of time. With a ride quality you'll never grow tired of and a precision seldom seen from titanium bikes, The Snob is your companion anywhere the road may take you.
Ritte's proven handling geometry
Custom fit geometry and rider specific tubesets
Built one at a time in the United States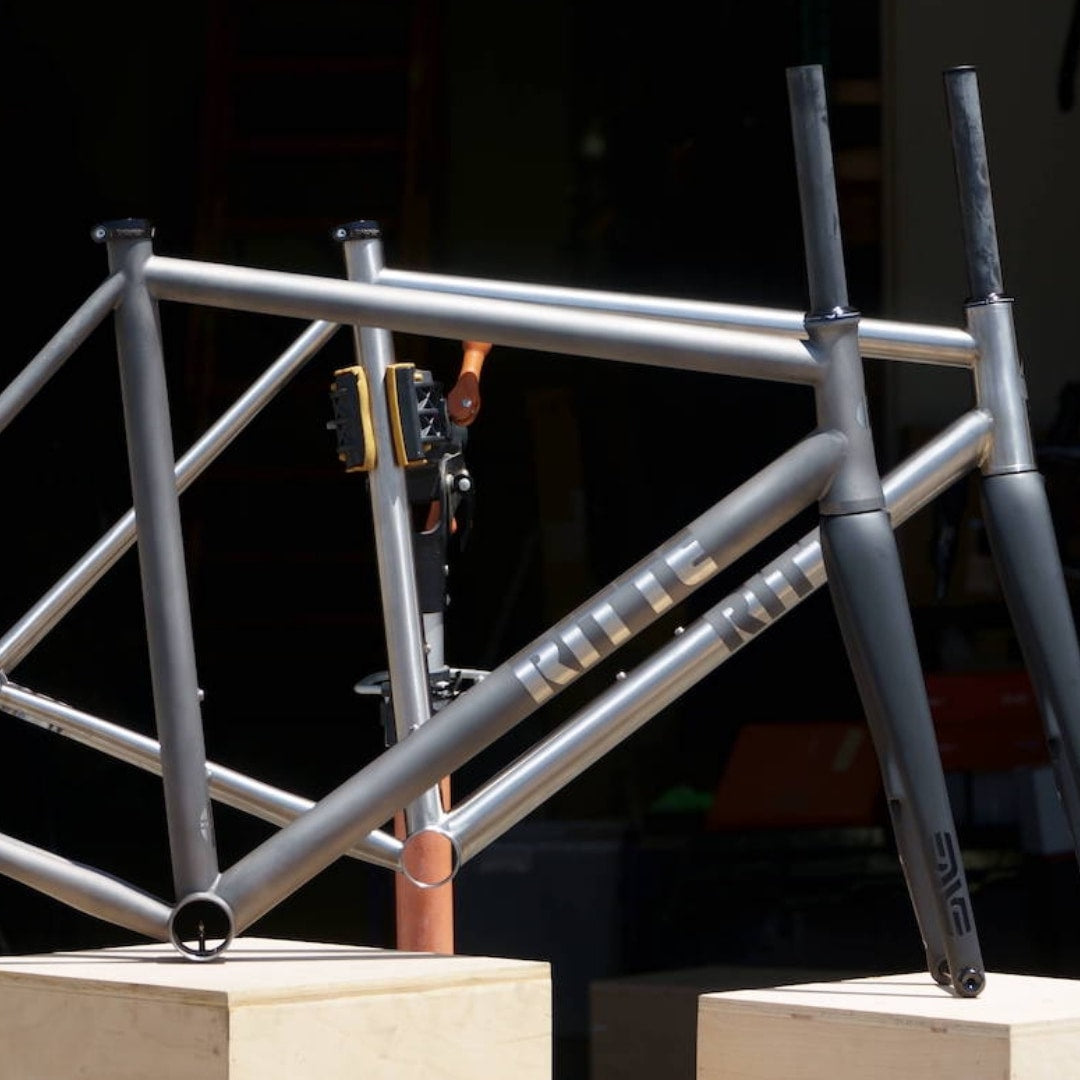 BESPOKE BUILT
The road is yours with The Snob. With race pedigree geometry and tubeset design by Tom Kellogg, The Snob is the evolution of what a titanium road bike should be. Sleek, silent, and confident.
Internal cable routing setups to suit any mechanical or electronic road drivetrain
Threaded T47 Bottom Bracket, 12mm Thru Axles, and Flat Mount Disc Brake
Paired with an included Enve Fork
Custom Geometry available
Custom finishes available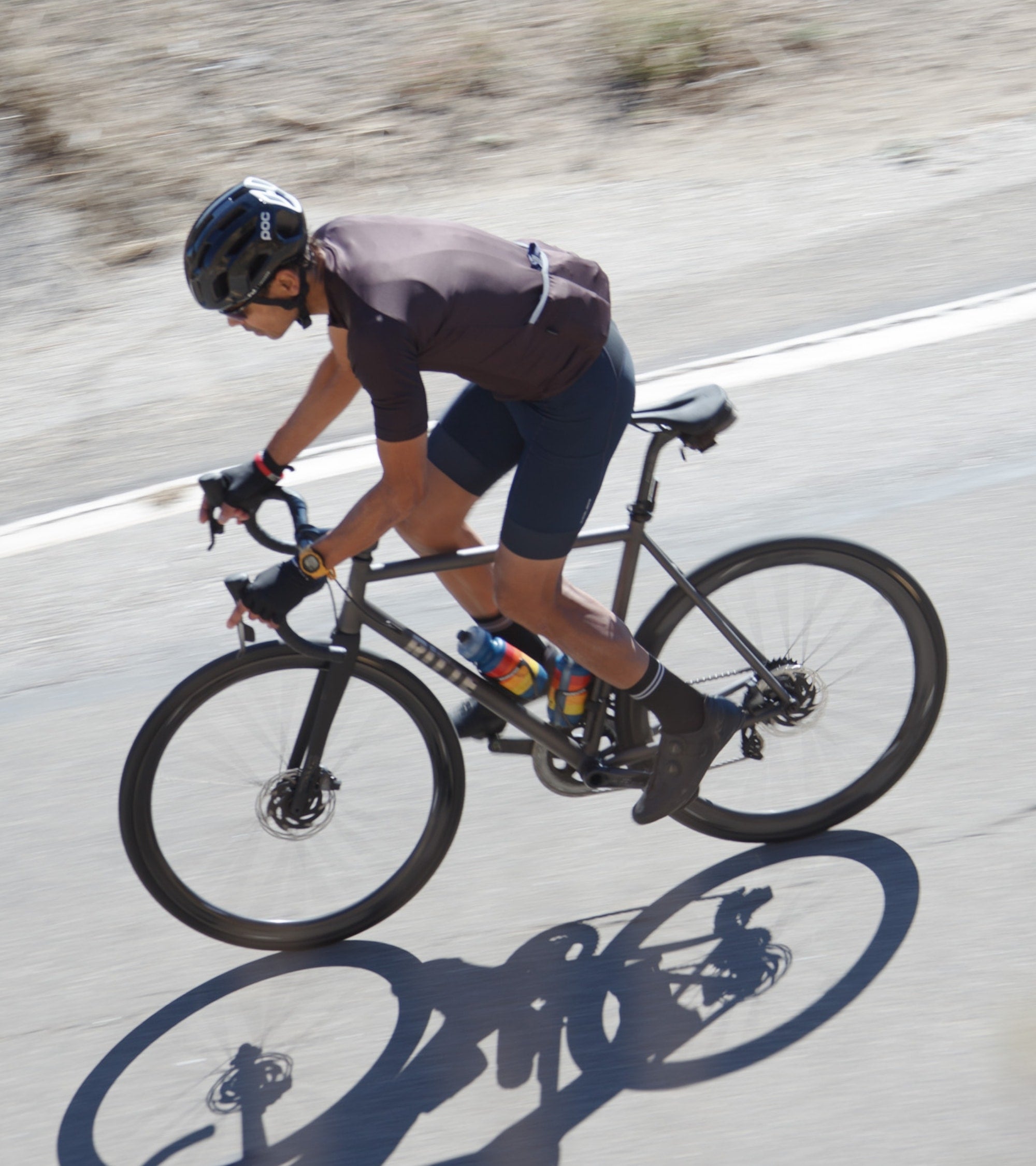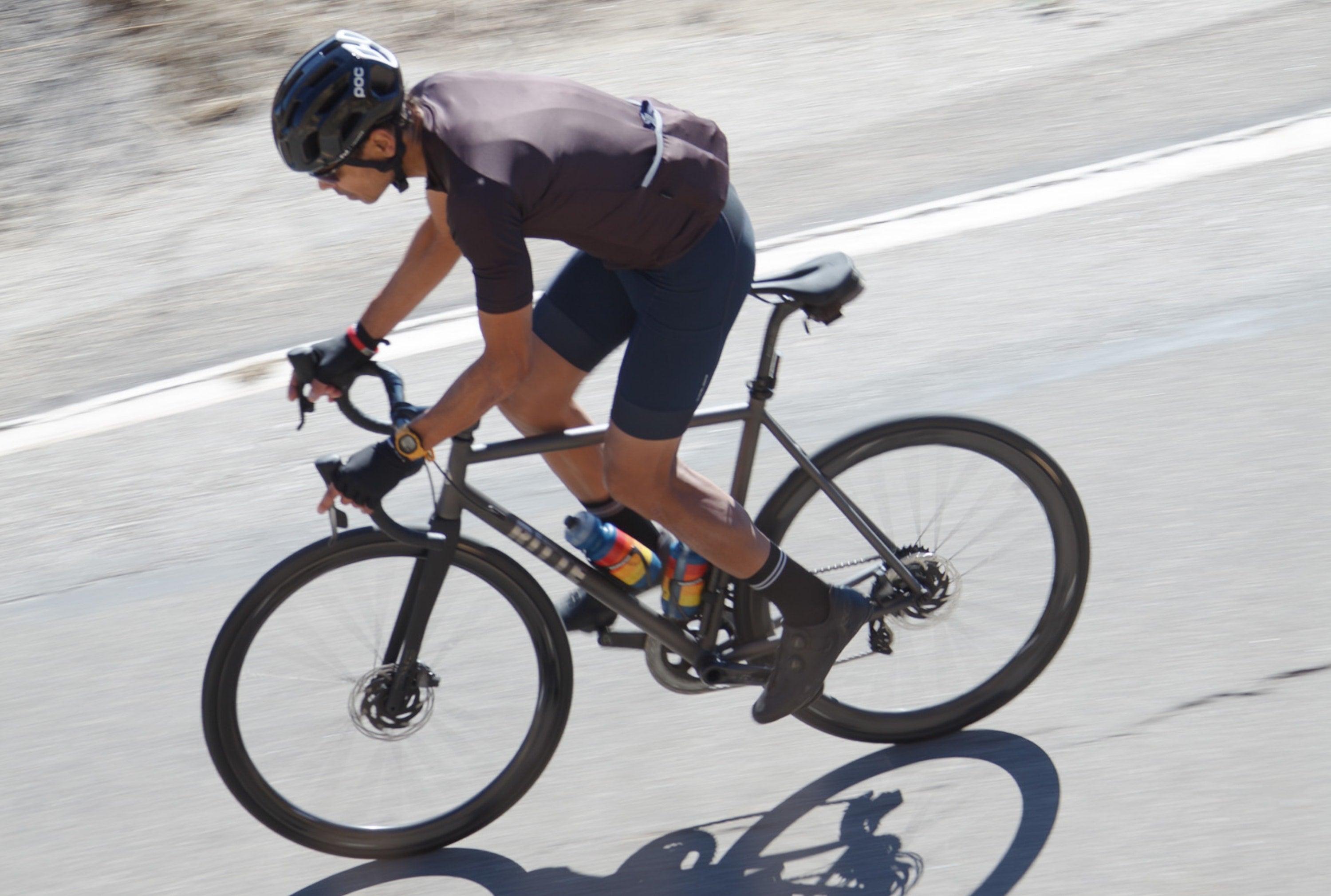 BESPOKE BUILT
The road is yours with The Snob. With race pedigree geometry and tubeset design by Tom Kellogg, The Snob is the evolution of what a titanium road bike should be. Sleek, silent, and confident.
• Internal cable routing setups to suit any mechanical or electronic road drivetrain
• Threaded T47 Bottom Bracket, 12mm Thru Axles, and Flat Mount Disc Brake
• Paired with an included Enve Fork
• Custom Geometry available
• Custom finishes available
This product is rated 5.0 of 5.0 stars.
It has received 4 reviews.
Ritte Snob
Build quality excellent. Ride is solid and smooth. The bike feels bulletproof. The OTHR components are beautiful; integrated stem/bars and rims. This bike will be in the stable for decades and still perform flawlessly.
Buttery smooth but with attitude
I ordered my first Ritte (Satyr) about three years ago. The experience and service from Elijah were remarkable. And…Steel is real ya'll! I road any group ride on the road or gravel and could challenge the best. It truly is a Swiss Army knife of bikes. Fast forward a few years, and when looking for a new road bike, there was no other choice for me but another metal frame. This time, however, I wanted to experience Ti. Enter the Snob. Again, the service and attention to details were unmatched by Elijah and Ritte. You could go pay more somewhere else, but I don't think you will achieve any better craftsmanship or service IMO. I searched. My Snob has Chris King headset, bb, and hubs with Enve wheels and cockpit. It is somehow so buttery smooth I can ride for half a day no problem but also snappy enough to sprint anyone on any group ride throw down. Do yourself a favor and look at a Ritte for your next bike. You will not regret it.
A Lean Mean Machine
Since 2011, I'd been happily shredding friend and foe alike on my Ritte Bosberg (the o.g. of the Ritte stable) and couldn't find a good reason to forsake its "erotic geometry" and sweet Belgian tri-color styling in exchange for a comparable contemporary disc-brake road racer. Until, The Snob. This will be my riding machine for the next decade, at least. Riding over the sometimes uneven, potholed roads of New York's Catskills, this bike absorbs it all with incredible comfort, stability, and the kind of style only Ritte can deliver.
I looked at a few other custom ti builders before I contacted Ritte, but it was really the only choice for me. The level of customer service that Elijah delivered is unsurpassed in my 25+ years of cycling. His attention to detail and depth of knowledge helped me create a custom frame design that fits me like a glove, a custom paint scheme that was executed to perfection, and finished it off with an amazing build with Di2, Enve, and Rotor components. I was in awe on newbikeday, and the riding since then has only confirmed what a performance machine this is. It's certainly not a pure climbing bike, but on rolling hills (which is pretty much what you get in the Catskills), it's punchy and responsive. And, like the Bosberg, this bike turns heads wherever it goes.
A final word on Elijah's customer service… when I snapped a chain after only a few hundred miles, he immediately shipped me a new one AND a new Di2 derailleur that suffered collateral damage – no questions asked. If you're ready to invest in a bike, this is the one.
Ti Snob
Having very happily ridden the Ace for several years, I knew I wanted another Ritte when it came time for a new ride, but I wanted to move back to metal, preferably Ti. Reached out to Elijah at the start of 2022 about the possibility of Ritte making the Steel Phantom in titanium. Timing couldn't have been better. A few months later I took possession of my new Snob Ti. Wow! The ride - agile, comfortable, confident. The bike transitions from tarmac to gravel with ease, making it an all purpose bike with more style than other carbon brands. Did I mention gorgeous? I had the frame bead blasted to give it that classic Ti look and to contrast the polished look of Ritte logo on the head tube and downtube. Also the welds are beautiful, and the overall finishing is superb. This is a lifetime frame! Throughout the build process, Elijah could not have been more accommodative, quick to respond to questions to make sure the frame and build were exactly what I wanted. Don't sleep! Get yourself a Snob!